Emilio Nicolas, Sr.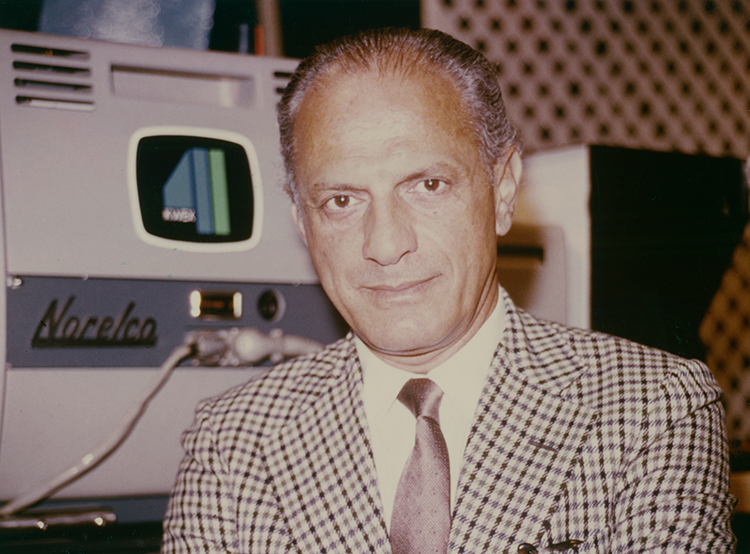 Pioneer of Spanish Language Radio and Television in the United States.
Emilio Nicolas, Sr. was born to Mr. and Mrs. Constantino Nicolas in Frontera, Coahuila, Mexico on October 27, 1930. He is one of five children.
After finishing High School in San Luis Potosi, Mexico in 1948, Nicolas came to the United States to learn English and seek an undergraduate degree in chemistry and biology with a minor in math from St. Mary's University in 1951 and in 1952 a Masters degree from Trinity University.
Nicolas went to work for Southwest Foundation doing research on arteriosclerosis, or hardening of the arteries. He also worked in the development of the polio vaccine.
He married Irma Alicia Cortez in 1953 and they have been married for 50 years and have 3 children and 5 grandchildren.
Nicolas left Southwest Foundation in 1955 and began working at KCOR_TV channel 41 in San Antonio where he produced the live shows at night and directed the news departments of the Radio and the Television stations during the day. In the mid-sixties he also handled the Spanish advertising and production for all clients of Pitluk Advertising, San Antonio's largest Agency at that time.
In 1961 a group of businessmen including Nicolas bought the station from Mr. Cortez and Nicolas renamed the station KWEX. He had wanted it to be KXEW in honor of Don Emilio Azcarraga's first radio station in Mexico City fondly known as "La XEW", but those call letters were taken in the states.
Nicolas or "Nicky" as he was known to close associates became the stations President and General Manager.
Both Nicolas and his partner Rene Anselmo began lobbying Congress to mandate that all Television sets come equipped to receive both VHF and now UHF channels. The success of this effort changed the face of UHF Television forever.
In 1975 Emilio Nicolas, Sr. initiated the Teleton Navideno in order to raise much needed funds for the under privileged of San Antonio during the Holiday's. He invites Archbishop Patrick Flores to co-sponsor the event. This event continues to provide much needed help to San Antonians.
1976 Nicolas initiates first national broadcast of a Catholic mass as a public service for its predominantly Catholic viwers on the SIN Television Network. This mass continues to be broadcast from the Cathedral in San Antonio and broadcast on Univision stations.
In 1976 KWEX and San Antonio became the center of operations for SIN, the first Satellite interconnected Television Network in the United States. San Antonio and KWEX remained the center of operations for the Network until late 1987 when Emilio Azcarraga Milmo moved everything to Laguna Nigel in California.
Nicolas was Chairman of the National Association of Spanish Broadcasters (NASB) He has served on the Board of Trinity University for 25 years. He was on the Board of San Antonio Savings Association, The University of the Incarnate Word, Southwest Research Foundation, The University of Texas College of Communications, The University of Texas Health Science Center, The Mexican American Legal Defense and Education Fund or MALDEF, The San Antonio Chamber of Commerce, The National Board of the USO and many others.
Nicolas has received numerous awards for his efforts in Advertising, Television, Civic causes and more.
Nicolas is credited for his National editorials on matters affecting the Spanish speaking people of the United States. These editorials aired on SIN and called National attention to U.S. Immigration laws and discrimination among other issues. Former San Antonio Mayor Henry Cisneros said "Nicolas could be credited with instigating two crucial U.S. Congress conference meetings which resulted in the killing of the latest immigration reform bill. (S.A.Express News from an article 10/17/84 by Wilfredo Ramirez.)
Between 1986 and 1987 as President of Spanish International Communications Corporation, Nicolas orchestrated and consummated the sale of the SICC television stations across the United States to Hallmark Greeting Cards of Kansas City, Kansas.
Following the Sale, Nicolas stepped down as President of the Company he had helped build.
Hallmark then threw Nicolas a wonderful dinner with an equally wonderful list of Friends, Family and former business associates.
After Nicolas and Azcarraga's two year non-compete with Hallmark was over, they met and decided to make Galavision the third Spanish Language Television Network in the United States.
Nicolas Communications Corporation was formed (NCC) to affiliate with Galavision.
Nicolas bought several Low Power Television (LPTV) permits and entered into a ten (10) year contract with Galavision to distribute its signal.
KNIC, channel 17 was built in San Antonio along with stations in Austin and Corpus Christi.
In 1997 Nicolas and Azcarraga severed ties after a 40 year relationship and NCC affiliated with The Home Shopping Network (HSN) and its sister network America's Store (AS)
In 2002 Univision and Entravision entered into a contract to purchase two (2) of NCC's stations for Telefutura, the nations Fourth Spanish Language television network.
In 2003 NCC sold two more stations to the Pappas Telecasting for their affiliation to Azteca America, the Fifth U.S. Spanish language television network.

Today, Nicolas is semi-retired, working with his son, Guillermo and enjoying life in San Antonio and on his ranch with wife Irma.